Parquet & Herringbone Engineered Wood Flooring
What is Parquet Engineered Wood Flooring?
Parquet is a traditional flooring dating back to the late 1600's which was introduced in Versailles, France. The parquet flooring was made by cutting small peices of different coloured woods in to geometric designed, this was all done by hand. An engineered Parquet wooden floor is the same size and style as it always was but now new technology allows us to build Parquet flooring for multiple layers of ply and wood to create the strongest and most reliable product on the market.
What does Herringbone mean?
There is a commin misconception that Herringbone is the name for Parquet wood flooring, however, it is not true. Herringbone is name given to the most traditional style of laying Parquet which can be seen below. There are many different ways to lay Parquet Flooring. Which we have listed below, however some products can not be installed this way, it is always best to check any installation instructions before installing your Parquet Engineered Wood Flooring.
Traditional Parquet Herringbone
Brickbond Parquet
Diagonal Basket or Basket Weave Parquet
Traditional Herringbone With a Block Border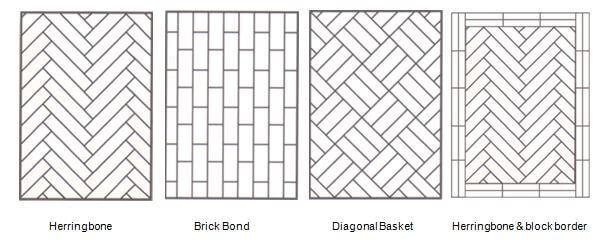 Why Would I Buy Engineered Parquet Flooring?
Traditionally Parquet flooring wood be a solid block of Oak or other hardwood which due to the time, preperation and adhesives needed to install this style have meant it has always been an costly venture.
New Parquet are now being made as an engineered flooring, which means intricate patterns are cheaper to manufacturer and easier to install. Alongside this the Parquet Engineered Flooring now has a constructed of several layers of HDF or PLY which greatly enhances structural stability, which means the boards are less likely to warp or move in humid or more moisture prone areas. All of this means you can install your new Parquet Engineered Wood Flooring in Kitchens and over Under Floor Heating.
Spoilt For Choice
At Flooring Village we are only interested in the best products in the market. We spend hours researching, testing and talking to experts in the flooring market so that we know any product we launch will deliver the best performance. All of our Parquet Engineered Wood Floors come with a minimum of a 15 year guarantee.
Parquet has undergone serious developments over the last 400 years and is now available in the highly durable, moisture resistant and heat resistant for of engineered wood. Companies like Woodpecker Goodrich Parquet Engineered Flooring & Tuscan Modelli have introduced brand new, fresh and stylish colours so a parquet floor can look fantastic in any modern home.
For all other designs, types and styles of engineered flooring, click here: Engineered Wood Flooring